Google‌ ‌rolled‌ ‌out‌ ‌its‌ ‌November‌ ‌2021‌ ‌Core‌ ‌Update‌ ‌- Here's‌ ‌All‌ ‌You‌ ‌Should‌ ‌Know‌
Several times a year, Google brings some changes to their search algorithms and structure, which they call "Core Update". These changes are designed to ensure that users are getting a valuable experience through their searches. And although these updates happen on an almost regular basis, most of them aren't noticeable, while some happen over an extended period of time, to a significantly notable degree. Whenever such an update is being rolled out, Google Search Console provides advanced notice and advice to website owners.
Recently, Google announced their November 2021 Core Update, providing guidance on what website owners should know about the update, including how Google will rank their site based on content quality and E-A-T i.e. Expertise, Authoritativeness, and Trustworthiness. In this Newsletter, I've lined up the biggest takeaways from the November update.
SEMrush, Mozcast, Rank Ranger, and several other such sites revealed that the update was quite disruptive, with volatility marked at very high just a day after the announcement, i.e. 9.3/10.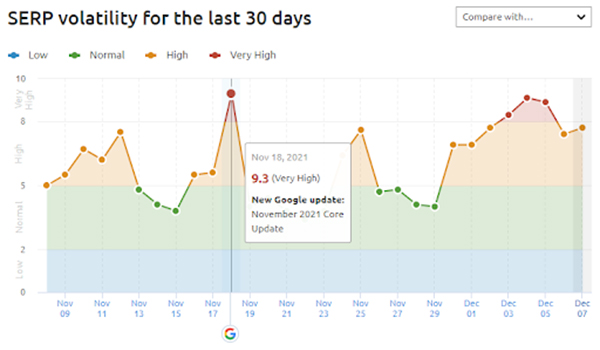 According to SEMrush, the November 2021 Core Update was about 12% more disruptive than its predecessor (July 2021 Update), with mobile search results experiencing a volatility of 23%, meaning it's important for website owners to keep an eye on their mobile rankings too when these algorithm changes roll out.
Google has been trying to increase the search experience of health-related queries given the current situation around the Globe. Hence, the health industry saw a major increase in volatility of about 41%, with real estate, travel, science, and autos and vehicles following behind.
Below is a category-wise analysis, showing that "Reference Materials", a category representative of dictionaries and other such informative sites, saw the biggest increase in visibility.
It's also been reported that about 84% of top 20 ranking URLs are still in the top 20 positions, meaning about 16% of URLs have fallen out of the first 2 pages of Google search results since the Core Update.
Google's Guidelines on Improving Your Rankings
There's a lot written about the impact of these updates on one's own website, but according to Google, there's nothing you need to do that can immediately fix your rankings. They state that their algorithms seek to assess the overall content of your website; I've written some of the questions that Google suggests you should ask yourself if your website experiences a dip in rankings:
Does the content provide original information, reporting, research, or analysis?
Does the content provide insightful analysis or interesting information that is beyond obvious?
Does the headline and/or page title provide a descriptive, helpful summary of the content?
If you researched the site producing the content, would you come away with an impression that it is well-trusted or widely recognized as an authority on its topic?
Was the content produced well, or does it appear sloppy or hastily produced?
Is the content mass-produced by or outsourced to numerous creators, or spread across a large network of sites, so that individual pages or sites don't get as much attention or care?
Does the content provide substantial value when compared to other pages in search results?
Does the content seem to be serving the genuine interests of visitors to the site, or does it seem to exist solely by someone attempting to guess what might rank well in search engines?
Apart from this, Google also suggests doing an audit of the drops you experienced, notice which type of pages were impacted the most and to what levels, or consider asking those you're associated with but who don't know your website to do an honest analysis of how they'd rank it on an informative level. Also, you need to take note of how your content is doing from an E-A-T perspective and which improvements you can consider.
In conclusion, the biggest advantage of Google's Core Updates and its recommended guidelines is that you understand how to move forward with your website once its rankings have been affected, either in a negative or even a positive way.